Grace Presbyterian Nursery School
GRACE PRESBYTERIAN CHURCH
Full Day and Half Day Programs Available
Registration
Grace Nursery School is a wonderful, warm and caring environment for young children ages 2 to 5 (PreK). Parents are encouraged to visit the school in session before enrolling a child. Please contact us to make arrangements to visit and to request an application. Cindy Kaminski is the Nursery School Director and can be reached at [email protected] or at 215-887-6117, ext. 23 between the hours of 9am-1pm Monday to Friday.
Grace Nursery School is a non-sectarian weekday school licensed by the State Board of Private Academic Schools since its founding in 1954. Each class is under the direct supervision of a trained state-certified teacher and assisted by another qualified teacher.

Full Day Tuition is based on the number of days your child is registered to attend school.
Families have the option of ONLY morning enrollment from 9:00am-12:00pm.
The purpose of Grace Nursery School
Provides boys and girls with a happy, relaxed nursery school atmosphere where each child can grow and mature at his or her own individual rate of growth.

Provides support needed for a happy transition from home life to the larger world of elementary school. At Grace, children have the opportunity to develop in many ways through a variety of activities. These activities include art, music, and free play to enhance creativity; playground equipment, large blocks, and wheel toys to develop motor control; language, story time, puzzles, show & tell, games, science, and numbers to develop intellectual stimulation. Trips, special programs and cooking experiences are important parts of the program. Periods of active play are alternated with quiet learning experiences. These experiences nurture the emotional, social, cognitive and physical growth of each individual thus focusing on the whole child. Our aim is to insure a positive first-school experience for all.

Opens mid-September and continues through May with vacations at Thanksgiving, two weeks in December and one week in the Spring (Easter).
Schedule
Grace Nursery School: Hours of Operation
9:00am -2:30pm
Morning Program
9:00am-12:00pm
Based on number of days child is registered

PRE-K II: PRE-KINDERGARTEN
9:00am- 12:00pm
Monday through Friday mornings
Tuition: $295 per month
Teachers: Shawna Ralston and Maureen Keyser
These students do not meet the age requirement for Kindergarten

PRE-K 1: FOUR-YEAR CLASS
9:00am – 12:00pm
Monday, Tuesday, Wednesday and Thursday mornings
Tuition: $265 per month.
These students will continue to Pre-K II in the following year
9:00 am – 12:00pm
Monday through Friday mornings
Tuition: $295/month.
Teachers: Gretchen Van Buren, Denise Bottinger, Annie Dwyer
These students will go to kindergarten the following year

THREE-YEAR CLASS
9:00am – 11:45am
Monday, Wednesday and Friday mornings
Tuition: $235 per month
Teachers: Jennifer Zalewski and Kate Maguire
TWO-YEAR OLD PLAY
9:30am – 11:30am
Three Days:  Monday/Wednesday/ Friday mornings
Tuition: $235 per month
Two Days: Tuesday & Thursday mornings
Tuition: $205 per month
Teachers: Mrs. Campbell, Mrs. Kimball and Mrs. Buss

The purpose of the two-year-old program is to provide a social experience for this age child in a relaxed environment. It provides the two-year-old with the opportunity to be with other children the same age for two hours 2 or 3 days a week. The child becomes aware of sharing, socializing, and living outside the family. Children do not need to be toilet trained.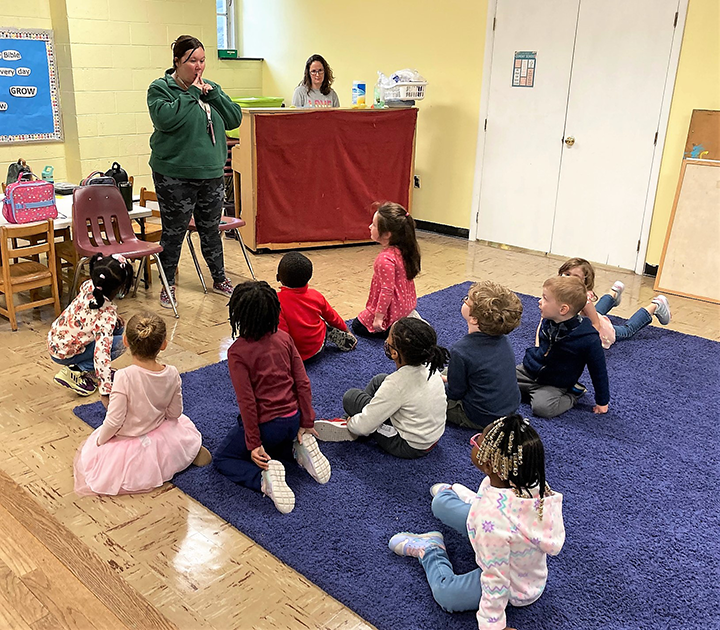 Early Drop Off: 8:30 am – 9:00 am; Extended Afternoon Program until 2:30 pm
Available for 3's, 4's, Pre-K- must be potty trained
Grace Nursery School provides early drop off and extended day options.  Early drop off is from 8:30-9:00/9:15 am, and children will be supervised by a Nursery School staff member.  The cost per day is $6.
Our extended day program begins at 12:00 pm and ends at  2:30 pm.  Children are supervised by a Nursery School staff member and should pack a lunch.  The cost per day is $19. Pizza will be offered on WEDNESDAYS and students need to pack a snack and drink.
For any family wishing to take advantage of both early drop off and extended day the cost per day is $23. (discount price)
Our goal is to make this program an enrichment extension of the school day.  The children will have an opportunity to learn, create, read, experiment and play together on a daily basis.
Grace Nursery School collects a one-time $75 snack/supply fee at the start of the school year.  We provide all snacks and drinks to the students during the school day.